Choose Green Grass For A Beautiful Lawn
Lawn Care in Southern Louisiana
From insect damage to unpredictable weather and everything in between, your lawn goes through a lot. To help your grass recover and ensure it looks great all year long, trust our Healthy Lawn Program. It includes six treatments, with one treatment every two months. We tailor each visit based on your property's seasonal needs to ensure it gets exactly what it needs, when it needs it.
Healthy Lawn Program Treatment Schedule
Early Spring (February/March)
Pre and post-emergent weed control.
Late Spring (April/May)
Nitrogen Fertilizer with iron and spot treatment of weeds.
Early Summer (June/July)
Nitrogen Fertilizer with iron and insecticide treatment.
Late Summer (August/September)
Liquid Iron fertilizer and insecticide treatment.
Fall (October/November)
Pre and post-emergent weed control.
Winter (December/January)
Potassium fertilizer and spot treatment of weeds.
Lawn Fertilization Services
Water and sunlight aren't always enough to keep your grass looking green and healthy, and that's okay! Over time, soil naturally loses its nutrients. This means your grass doesn't have anything to feed on and becomes yellow, slow-growing, and patchy. To fix this damage, trust our lawn fertilization in South Louisiana. We will create a custom blend of nitrogen, potassium, phosphorus, and iron to feed your grass.
Benefits of lawn fertilization in South Louisiana include:
Fewer weeds:

Thick, lush grass doesn't leave weeds many places to take root.

Improved soil quality:

Grass roots stop the nutrient-rich topsoil from being washed away by rain.

Disease resistance:

Healthy grass is naturally more resistant to disease, as well as drought and pest damage.

Stronger roots

: Great grass starts underground. Grass needs an expansive root system, and fertilizer encourages the roots to grow.
Protect Your Lawn from Damaging Fungus
There are thousands of fungal spores in your lawn right now. They're usually harmless, but under the right conditions, they can cause problems like fairy rings and brown patch. If you don't treat these lawn diseases, they'll keep spreading until they've taken over your entire lawn. Instead of risking the health of your lawn, trust our fungus control. We'll identify your specific issue, then solve it using products that are both safe and effective.
Lawn Pest Control in South Louisiana
Finding pests in your home is bad news, but having some pests in your yard is just as bad. Insects like mole crickets or armyworms can quickly destroy grass roots, causing irregular brown patches, spongy turf, and grass that rolls up like a carpet. If left unchecked, these pests will kill your lawn. The best way to stop that from happening is with our lawn pest control. We'll eliminate existing insects while protecting your property from future invaders.
Our lawn pest control in Louisiana treats:
Armyworms

Chinch bugs

Sod webworms

Mole crickets
Hassle-Free Lawn Care Without a Contract
Some lawn care companies try to rope you into an unnecessary contract and make you sign up for services you don't really need. When you work with Green Grass, you never have to worry about that happening. We offer no-contract services, so you're always in charge. We might make recommendations based on our findings, but you get to choose what services you sign up for without any pressure from our end.
Image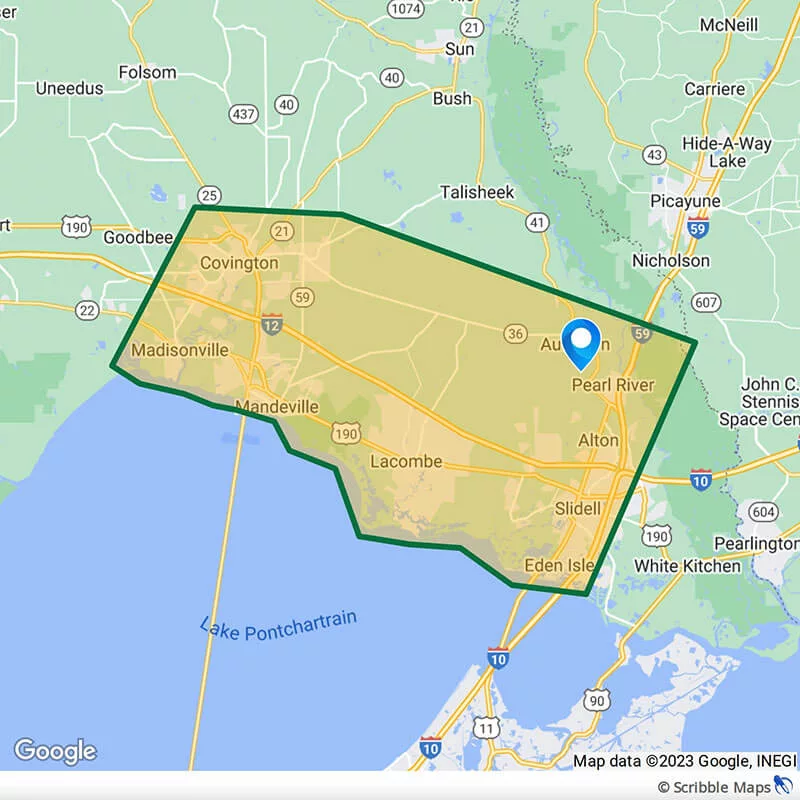 Areas We Service
We've proudly been providing professional lawn care services to our neighbors on the Northshore since 1981, and we can't wait to help you too! Check out our service area, then give us a call to get started today.