Commercial Lawn Services You Can Trust
Our Commercial Lawn Care in Southern Louisiana
At Green Grass, we don't stop at residential lawns! We also offer commercial lawn care in Southern Louisiana. This is a great option for properties like office buildings, apartments, businesses, and more. Your curb appeal can make or break a customer's first impression, so we'll make sure your property always looks great. With tailored treatments, year-round visits, and exceptional customer service, there's no better option.
Schedule Your Free Inspection Today
It can be overwhelming to know where to start when it comes to lawn care, so we've made the process easy. We offer free inspections to kick things off and get to know more about your yard.
We'll look for problem areas, talk to you about your concerns, and use our 40+ years of experience to design a plan that's sure to give you results.
Industrial Weed Control in Southern Louisiana
Just like residential lawns, industrial areas are also at risk for weeds. Not only do they look bad, but they can also pose a tripping hazard and get in the way of machinery. Our industrial weed control is available for refineries, storage yards, rail yards, ditches, and fence lines on industrial sites.
We'll develop a treatment plan based on your property's unique needs to ensure our services don't get in the way.
Aquatic Weed Control in South Louisiana
Weeds can grow everywhere, even in the water! We can treat lakes, ponds, and drainage canals without harming the vegetation you want to keep. Aquatic weed control is complicated, and it takes many years of training to understand how these plants grow.
Our field experience and classroom training have prepared our technicians to tackle plants like duckweed or water hyacinths.
Before and After of Aquatic Weed Control
Image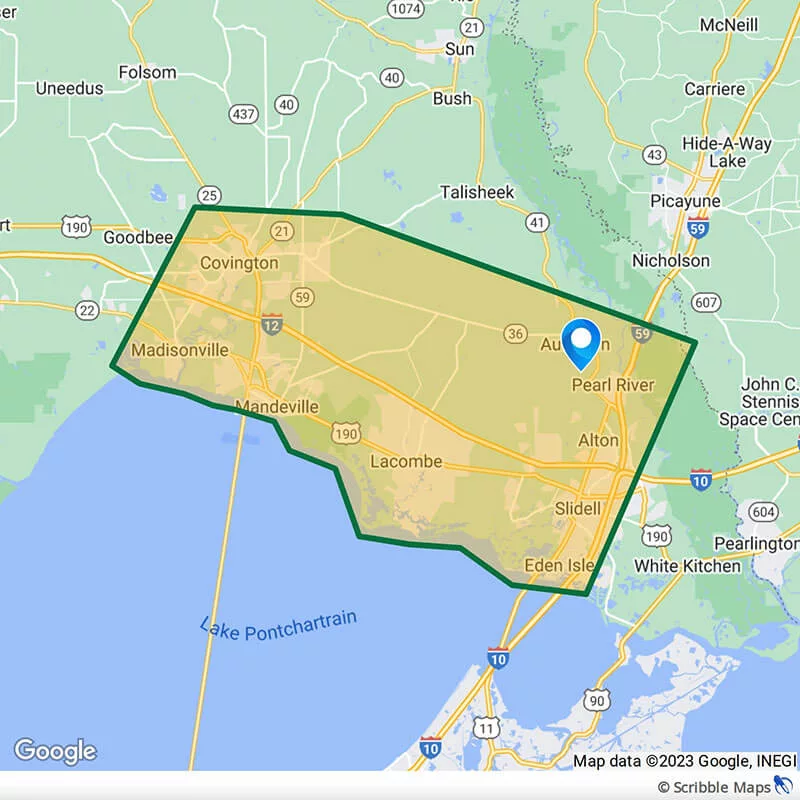 Areas We Service
We've proudly been providing professional lawn care services to our neighbors on the Northshore since 1981, and we can't wait to help you too! Check out our service area, then give us a call to get started today.