Looking For Lawn Care in Mandeville?
Lawn Care in Mandeville
If you're looking to make your dream lawn a reality, look no further than Green Grass Lawn Care! We'll transform your turf from root to tip, giving you noticeable results that will make all your neighbors green with envy. Whether you have brown patches, insect damage, or stubborn weeds, we have the solution for you.
Our lawn care services in Mandeville include:
A free inspection so we can get to know your property better.

Treatments tailored to your unique needs.

Six treatments throughout the year.

Open communication throughout the treatment process.

A better, healthier lawn in no time!
Get a Better Lawn Without a Contract
Recurring treatments are the secret to thriving grass. However, we know that's not always the best option for everyone. That's why we offer no-contract lawn care in Mandeville. You still get great service, but you get to choose between regular services or a one-time visit. Either way, our expert lawn technicians will go above and beyond to make sure you're happy with the results, without requiring you to sign a contract.
Image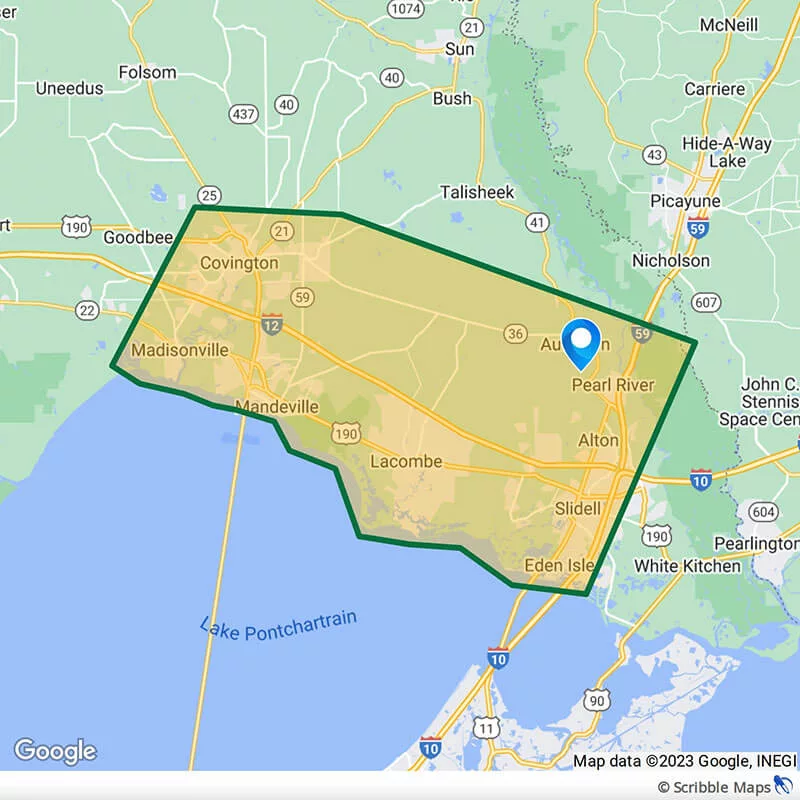 Commercial Lawn Care in Mandeville
Maintaining grass takes a lot of time and energy, which are two things you don't have a lot of when you're also running a business. To give you the help you deserve, we offer commercial lawn care in Mandeville. Your employees and customers will be greeted by a great-looking, healthy property every day, and you won't even have to lift a finger.
Lawn Fertilization in Mandeville
Nutrient deficiencies cause slow-growing that's yellow, thin, and dying. Your turf gets most of its nutrients from the soil, but that's not always enough. Luckily, this is an easy problem to solve! Our lawn fertilization in Mandeville revitalizes your lawn with a custom blend of nitrogen, potassium, phosphorus, and iron. These nutrients work together to give your grass a sustained boost, helping it grow year-round instead of in one big burst like some store-bought products will.
Benefits of proper fertilization in Mandeville include:
Faster growth to fill in thin areas.

Improved soil quality with less erosion.

Drought, disease, and pest resistance.

Stronger root systems.

Fewer weeds.
Lawn Aeration in Mandeville
If your lawn is struggling despite proper maintenance, the problem might be soil compaction. This happens naturally over time, and things like foot traffic or heavy rains can speed up the process. Compacted soil stops water, nutrients, and oxygen from reaching grass roots. The only way to undo this damage is with lawn aeration in Mandeville. We'll create necessary air pockets to give your turf room to breathe and help it recover.
Lawn aeration in Mandeville helps your property by:
Reducing standing water.

Encouraging thick, even grass growth.

Helping grass roots grow deeper.

Reducing stress from drought and pests.

Making it easier for fertilizer to reach the roots.
Weed Control in Mandeville
Not only are weeds unsightly, but they also take a toll on your grass. Weeds steal resources like water, nutrients, and space. This leaves you with a dead, brown lawn—except for the thriving weeds. Instead of pulling them all up by hand or using ineffective DIY methods that can do more harm than good, trust our weed control in Mandeville. We'll take care of all the hard work, saving you time and money.
Our weed control in Mandeville includes:
Pre-emergent treatments that stop new weeds from sprouting.

Post-emergent applications to eliminate unwanted plants without harming the grass.

Regular visits throughout the year for the best results.

Protection from dandelions, henbit, crabgrass, and more.
Fungus Control in Mandeville
Watching lawn diseases wreak havoc is frustrating, and trying to treat them on your own only adds to the stress. That's because there are dozens of fungal problems that could be happening, and they all require their own unique treatment. Don't just guess what the best treatment is - trust our fungus control in Mandeville. We'll accurately diagnose the problem, create a fast-acting treatment plan, and stop diseases from spreading.
Insect Control in Mandeville
Pests belong outside, but that doesn't mean they should all be in your yard! Some insects, such as grubs, are well-known for the damage they can cause. Grubs burrow underground and eat tender grass roots, while army worms chew up the grass blades. Either way, you're left with ugly brown spots that won't fix themselves. Our insect control in Mandeville will stop any more pests from snacking, and we offer other lawn services to help repair any damage.
Our insect control in Mandeville helps with:
Armyworms

Chinch bugs

Sod webworms

Grubs

Mole crickets
Tree & Shrub Care in Mandeville
Trees and shrubs are a great way to increase your curb appeal and raise the value of your home. But that's only if they're well-maintained, which can be a major hassle, especially if you try to take care of them all alone. Relying on trial and error with store-bought products gets expensive quickly, but our tree and shrub care in Mandeville makes sure you get the best bang for your buck. We offer free inspections, no-contract services, and year-round treatments.